"Cat is so special to me. She's a MORON. Such a child but she's just got the purest sweetest most precious heart & I really love playing her. Even though she's a complete idiot I feel like we could all learn a lot from Cat and her outlook on life…"
— Ariana Grande about her character Cat Valentine.
Ariana Grande

Biographical information
Full Name

Ariana Grande-Butera[1]

Nickname(s)

Ari, Riri, Lil' Red, Oreo (by Jennette McCurdy[2])
Strawberry Monster (by her brother, Frankie Grande)

Gender

Female

Born

June 26, 1993 (age 29)
Boca Raton, Florida

Occupation

Actress, singer, dancer

Years active

2003 – present

Physical description
Height

5'0.5" (153.7 cm)[3]

Hair color

Black (Natural color)
Red (dyed)
Brown (dyed)
Platinum blonde (dyed)
Golden brown (dyed ; current)

Eye color

Dark Brown

Production information
First appearance
Last appearance
Role
Gallery (images · videos)
Ariana Grande-Butera is an American singer, actress and dancer. In Sam & Cat, she reprises her role as Cat Valentine, a role she originally played in Victorious.
Biography
Early life
Grande was born and raised in Boca Raton, Florida.[4][5] She is of Italian descent: half Sicilian, half Abruzzese.[6] Her name was inspired by Princess Oriana from Felix the Cat. Grande's parents are Joan Grande and Edward Butera, a graphic designer. She has an older maternal half-brother, Frankie Grande, who is a performer and producer. He also was one of Grande's backup dancers on her first tour. Grande sang as a soloist in various symphonies, such as South Florida's Philharmonic, Pops and Symphonia Orchestras. She has sang various times in NYC's Birdland and has sang the National Anthem on the first live broadcast of the Florida Panthers hockey league.[7]
Career
2003–10: Beginnings and Broadway
In her early years, she was a soloist with various symphonies including South Florida's Philharmonic, Pops and Symphonia Orchestras, and had repeated appearances singing at NYC's own Birdland. Ariana performed the National Anthem for the first live Fox Sports broadcast of the Anthem for the Florida Panther's hockey league at age eight, her first National TV performance.[8] In 2008, Grande played the role of Charlotte in the musical 13 on Broadway, for which she won a National Youth Theatre Association Award. When she joined the musical, Grande left her high school, North Broward Preparatory School, but continued to be enrolled. The school sent materials to her so she could study with tutors.[9]
In 2010, she created the original role of Miriam in the reading of the new musical, Cuba Libre, written and produced by Desmond Child.[8]
2010–present: Victorious, and other projects
Grande played the character Cat Valentine on the Nickelodeon television show Victorious, which premiered in March 2010. Grande was also featured in Dream Magazine as the cover girl for the August 2011 issue.[10] In 2011, Ariana voiced an animated fairy, Princess Diaspro, on the Nickelodeon series, Winx Club. Grande also made appearances as a panelist on Figure It Out. Grande starred as Snow White along with Charlene Tilton and Neil Patrick Harris in the Pasadena Playhouse's production of A Snow White Christmas from December 13–23, 2012.[11] In 2012, Grande sang a duet with MIKA on the single version of his track "Popular Song".[12] Ariana's second studio album, titled My Everything was released on August 25th, 2014. Ariana released three singles before the release of the full album. The first was "Problem", which was released on April 28th, 2014 and featured Australian rapper, Iggy Azalea. The second single was "Break Free", released on July 2nd, 2014, featuring Russian-German artist Zedd. Ariana was also featured along with Nicki Minaj in Jessie J's single "Bang Bang", which was released on July 29th, 2014.
Sam & Cat
It was announced during the network's presentation at the Television Critics Association Summer Press Tour on August 3, 2012 that Sam & Cat, which would pair Grande from Victorious and Jennette McCurdy from iCarly together in a traditional "buddy sitcom" setting, where they would reprise their roles as Cat Valentine and Sam Puckett.[13] In the following month it was also announced that Victorious's current season (Season 3, which was split to a fourth season) will be the last.[14] Grande tweeted stating that she wasn't hoping for it to end and was looking forward to being on both shows. It was announced the third soundtrack was released on November 6, 2012 titled as Victorious 3.0. The first single is called "LA Boyz" (which was performed by Grande and Justice) and the music video was released October 18.
Debut studio album
Ariana finished working on her first studio album, Yours Truly, in June 2013[15] and released it on September 3rd, 2013. Grande commented on the album saying: "They can expect a lot of honesty. It's like a direct... you know, it's like it used to be pages from my diary, instead of keeping diary, I would write songs about what was happening in my life. So it's really personal. It's a Motown throwback and pop at the same time, so it's '50s and '60s inspiration mixed with today." The album was inspired by artists like Amy Winehouse, Mariah Carey, Whitney Houston, Alicia Keys, Fergie, Katy Perry, Madonna. Grande worked with artists like Sky Blue from LMFAO, 3OH!3, Kool Kojak, and Pebe Sebert on the album.[16] The first single off the album, "Put Your Hearts Up", debuted on 2012, along with a music video. The second single, "The Way," which features Mac Miller, was released in April 2013. "Baby I," the third single, was released on July 22, 2013. It debuted at #1 on the Billboard 200 charts selling 138,00 copies in its first week.
Personal life
At the age of 10, Ariana co-founded the youth singing group, Kids Who Care, in South Florida, which performed for charitable fund-raising events, raising over $500,000 for charities in 2007 alone.[8] In the summer of 2009, as a member of the charitable organization, Broadway in South Africa, Grande performed and taught music and dance to children in Gugulethu, South Africa along with her brother Frankie.[17]
Ariana Grande has dated YouTube sensation Jai Brooks from the Janoskians. They started dating in October 7th, 2012 but only met in real life on December 31, 2012 in New York City.[18][19] They broke up on February 21, 2013.[20]They got back together a month later. On August 16, 2013, Ariana Grande and Jai Brooks broke up again.[21] However, since May 2014, sources show that they were back together.[22][23][24] However, Ariana and Jai broke up again due to Jai not being there for Grande when Ariana's grandpa died due to cancer. Rumors later have risen, involving Ariana and collaborator Big Sean possibly dating with a source claiming to have witness the subjects kissing. Ariana later confirmed that she indeed was dating the rapper. The two dated for about 8 months and news broke out that they had split in April 2015. Since was previously in a private relationship with her backup dancer Ricky Alvarez, but in late 2016, she started dating Mac Miller. In May 2018, the pair broke it off. Later, Miller passed away due to an accidental drug overdose due to a "mixed drug toxicity" of fentanyl, alcohol, and cocaine. Soon after, she began dating Saturday Night Live member Pete Davidson, and the pair became engaged not long after that. However, in mid-October, they split and broke the engagement. Note: as of this edit, Ariana has not commented on the state of things between her and Davidson.
Ariana Grande has dated Nathan Sykes, a member from the band 'The Wanted'. They started dating in late September 2013.[25] In December 2013, Ariana Grande and Nathan Sykes broke up.[26]
On Thursday, July 3, 2014 Ariana dropped everything (promos, concerts, etc) and flown back to Florida to take care of her ailing Grandpa who has been battling cancer. Alas, Grandpa Grande succumbed to cancer on July 22th leaving Ariana and her family devastated. [27][28][29] Both Scooter Braun [30] [31] and Jennette McCurdy [32] have send heart-warming messages to her.
Grande's second studio album, My Everything (2014), continued the pop-R&B sound of its predecessor and incorporated EDM elements. It topped the Billboard 200 and featured four US top-ten singles: "Problem", "Break Free", "Bang Bang", and "Love Me Harder", the most of any artist that year. Grande's pop-R&B styles extended on her third studio album, Dangerous Woman (2016), which was her first of three consecutive number-one albums in the UK, and spawned two US top-ten singles such as the Grammy nominated title track and "Side to Side". On her next two albums, Sweetener (2018) and Thank U, Next (2019), Grande experimented with trap while maintaining her characteristic pop-R&B tones; both debuted at number one in several countries and were acclaimed by music critics. The former won a Grammy for Best Pop Vocal Album and spawned the international top three single "No Tears Left to Cry", while the latter broke several streaming records upon release. Grande became the first solo artist to hold the top three spots on the Billboard Hot 100 simultaneously when "7 Rings", "Break Up with Your Girlfriend, I'm Bored" and "Thank U, Next" did so in 2019. The first two made Grande the first woman in the UK to succeed herself at the top spot. She is also the first artist to have the lead singles from each of their first five studio albums debut within the top ten in the US.
Grande has received various accolades, including one Grammy Award, one Brit Award, two Billboard Music Awards, three American Music Awards, and several Guinness World Records. All five of Grande's full-length albums have been certified platinum or better by the RIAA. As one of the leading streaming pioneers in the world, she has amassed over 40 billion streams on platforms like YouTube, Spotify, and Apple Music. She is the most followed female on the two former, while being the most listened female on the latter two. An influential figure on social media, she is an outspoken feminist and supporter for LGBT rights. She asserts control over her public image and is known for her ponytail hairdo and bold fashion statements. In February 2019, she became the most followed woman on Instagram. Forbes ranked her amongst the highest-paid celebrities in 2019, and Time named Grande as one of the 100 most influential people in the world in 2016 and 2019. Billboard recognized her as the "Woman of the Year" in 2018.
Other credits
Television work
| Year | Series | Role | Notes |
| --- | --- | --- | --- |
| 2009 | The Battery's Down | Bat Mitzvah Riffer | 1 Episode |
| 2010–2013 | Victorious | Cat Valentine | Main role |
| 2010 | BrainSurge | Herself | Contestant |
| 2011 | iCarly | Cat Valentine | Guest star in "iParty with Victorious" (season 4, episodes 11-13) |
| 2011-2013 | Winx Club | Princess Diaspro | Recurring role, voice only (Revenge of the Trix (Special 2), Season 3 Episodes 7-9, Season 5 Episodes 6,16,18-20,22,24) |
| 2012 | Figure It Out | Herself | Judge panelist |
| 2013-2014 | Sam & Cat | Cat Valentine | Main role |
| 2014 | Family Guy | Italian Daughter | Episode: Mom's the Word; voice |
| 2015 | Scream Queens | Sonya Herfmann | Recurring Role[33] |
Stage work
| Year | Production | Role | Notes |
| --- | --- | --- | --- |
| 2008 | 13: The Musical | Charlotte | Original Broadway Cast |
| 2012 | Cuba Libre [34] | Miriam | Original Broadway Cast |
| 2012 | A Snow White Christmas | Snow White | Stage production at Pasadena Playhouse |
Filmography
Discography
Year
Song
Recording company
Chart position
2011
"Give It Up" (duet with Elizabeth Gillies)
Sony, Nickelodeon, Columbia
#23 US Billboard Hot 100
2011
"Put Your Hearts Up"
Universal Republic Records
#61 US iTunes chart
2012
"LA Boyz"
Sony, Nickelodeon, Columbia
2013
"The Way" (feat. Mac Miller)
Republic Records
#10 US Billboard Hot 100
"Baby I"
Republic Records
#23 US Billboard Hot 100
"Right There" (feat. Big Sean)
Republic Records
#84 US Billboard Hot 100
2014
"Problem" (feat. Iggy Azalea)
Republic Records
#2 US Billboard Hot 100
"Break Free" (feat. Zedd)
Republic Records
#4 US Billboard Hot 100
"Bang Bang" (& Jessie J & Nicki Minaj)
Lava & Republic Records
#3 US Billboard Hot 100
"Love Me Harder" (feat. The Weeknd)
Republic Records
#7 US Billboard Hot 100
"Santa Tell Me"
Republic Records
#42 US Billboard Hot 100
2015
"One Last Time"
Republic Records
#13 US Billboard Hot 100
"Focus"
Republic Records
#7 US Billboard Hot 100
2016
"Dangerous Woman"
Republic Records
#8 US Billboard Hot 100
"Let Me Love You" (ft. Lil Wayne)
Republic Records
#99 US Billboard Hot 100
"Into You"
Republic Records
#13 US Billboard Hot 100
"Side To Side" (ft. Nicki Minaj)
Republic Records
#4 US Billboard Hot 100
2017
"Everyday" (ft. Future)
Republic Records
#85 US Billboard Hot 100
"Somewhere Over the Rainbow" (charity single)
Republic Records
2018
"No Tears Left to Cry"
Republic Records
#3 US Billboard Hot 100
"The Light Is Coming" (ft. Nicki Minaj)
Republic Records
#89 US Billboard Hot 100
"God Is a Woman"
Republic Records
#8 US Billboard Hot 100
"Breathin"
Republic Records
#12 US Billboard Hot 100
"Thank U, Next"
Republic Records
#1 US Billboard Hot 100
"Imagine"
Republic Records
#21 US Billboard Hot 100
2019
"7 Rings"
Republic Records
#1 US Billboard Hot 100
"Break Up With Your Girlfriend, I'm Bored"
Republic Records
#2 US Billboard Hot 100
"Monopoly" (with Victoria Monet)
Republic Records
#69 US Billboard Hot 100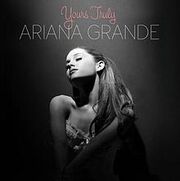 Trivia
Her natural hair color is brown, but she dyed her hair red for her role of Cat in Victorious, since the creators didn't want all the main cast members to have brown hair. Her hair is also naturally extremely curly.
She has to make her voice higher to play Cat.
Ariana is the most followed woman on Instagram with over 150 million followers
She has an older maternal half-brother named Frank, whom she nicknamed Frankie, who is also a performer and producer. He went on tour with her as one of her dancers.
Her fashion icons are Marilyn Monroe and Audrey Hepburn.
Just like her character, Cat, she has a very girly personality, but is not ditzy.
On December 15, she admitted on Twitter that she's allergic to bananas, shellfish, and some cough medicines.
Ariana runs the YouTube channel WeAreStoopKid along with Liz Gillies and Matt Bennett.
She joined YouTube on January 21, 2007.
Ariana covers many famous songs on her YouTube channel.[35]
She has a birthmark on her left shoulder/back and a dimple in her left cheek.
Her favorite singers are Celine Dion, Imogen Heap, Mariah Carey, and India Arie.
She's a huge techno-junkie and uses Garage Band to create remixes of her favorite songs using an Apple computer, a Boss looping station RC50 (meant for guitars, but she plugs her microphone in and use her voice instead), and a home studio, seen in this video.
She's a fan of the Harry Potter series. Coincidentally, there's a character named Ariana (Ariana Dumbledore) in the books.
Her favorite fruits are strawberries, watermelon, and pineapples.
Her favorite characters in Harry Potter are Luna Lovegood and Draco Malfoy.
She loves swimming.
She and Liz Gillies both passed their driving test together on June 13, 2012.
She used to collect stuffed animals, hockey pucks, and Halloween masks.
Her fan mail address is 265 S. Federal Hwy Suite 331 Deerfield Beach, FL 33441.
She was a judge on Season 21 of The Voice
She was on BrainSurge and wore a pink t-shirt and skinny jeans. She had 130 points, allowing her to move onto the next round, being the only girl to compete. But then she lost, along with Carlos (from Big Time Rush) and was the first one to slide down "The Brain Drain." The episode aired on April 21, 2011.

Nathan Sykes and Ariana Grande at BBC 1 Radio

She loves the word "bubble."
She is studying Spanish.
She loves Judy Garland and can impersonate her quite well.
She has a talent for mimicking the speaking/singing voices of others, including but not limited to Britney Spears, Shakira, Katy Perry, Judy Garland, Jessie J, her best friend and co-star Liz Gillies, a laughing baby, a crying baby and a lamb bleating.
She was in the Original Broadway cast of "13: The Musical" as Charlotte with Liz Gillies.
She used to live in L.A. Her house is over 100 years old and was previously owned by Francis Ford Coppola, the director of The Godfather. She says so in this video.
Ariana enjoys watching the TV show Gossip Girl.
Her first crush was Justin Timberlake (when she was three years old).
She has ten dogs named Coco, Fawkes, Toulouse, Cinnamon, Sirius, Strauss, Lafayette, Pignoli, Myron, Snape and Lily. She also has a Micro pig named Piggy Smallz.[36][37][38]
She went to her first concert, a Katy Perry concert, in the summer of 2011.
She says she can't stand it when you smile at a stranger and they don't smile back.
She went to Washington, DC for the "Worldwide Day of Play 2011."
She is hypoglycemic (her blood sugar gets low). As a result, she once ate in class and was put into detention. In the end, her mother took her out of it.[39]
The first time she ever ate a taco was when she was in a Victorious episode, "The Breakfast Bunch."
Once in a livestream, Jennette McCurdy accidentally made her phone number public. When Ariana told this story in another livestream, she accidentally made her new number public, thinking it was her old one.
On December 10, 2011, she reached a million followers on Twitter.
Ariana put her hands in cement at Planet Hollywood, New York, on December 22, 2011.
The Huffington Post named Ariana Grande the third most influential actress online above Miley Cyrus and Jennifer Aniston and asked her to represent the voice of her generation by becoming their featured high-school section journalist.[40]
Ariana wrote a news article about bullying.[41]
Twitter fact: The World Bank, the world's largest development organization, follows Ariana on Twitter.
Broadway for South Africa, the organization that Ariana supports, used her debut single, "Put Your Hearts Up."
The Put Your Hearts Up music video was released on February 14 (Valentine's Day). Ariana absolutely hates this music video and made them remove it from her VEVO channel.[42]
Ariana's birthday is the same as Jennette McCurdy's, but Jennette is one year older; Jennette was born in 1992, and Ariana was born in 1993.
Ariana originally was going to release a demo CD, but she hasn't released it after over four years. She posted previews of some songs in her CD, called Rollercoaster, Let It Rain and Higher.
Her favorite ice cream flavor is chocolate.
Ariana was partly discovered by Discovering Acting.
Ariana's bra cup size is 32A.[43]
Her favorite topping is rainbow sprinkles.
She thinks penguins are cute.
Her favorite subject is science.
Her favorite candies are Smarties and Razzles.
Her brother Frankie calls her "The Strawberry Monster".
Her favorite types of movies are romance and comedy.
She loves hair bows, dolphins, British accents, polka dots, and sea creatures.
She attended North Broward Preparatory School. She once filmed her teacher shouting at her.[44]
On April 21, she got a little heart tattooed on her second toe. Click here to watch her getting the tattoo!
According to her Nick Screen Test, if she could swap lives with a celebrity for the day it would be Michael Jackson.
She said she has a crush on Bruno Mars.[45]
Her favorite movie is 13 Going on 30 and Bruce Almighty.
Her favorite restaurant is Toast.
She made a video with Matt Bennett in which she tries some back stage acting; however, most of the video she can't stop giggling, like when she tried to look mad or "kiss" the air.
She likes the "Whole Foods" grocery store.
The Italian name Ariana is originally derived from the Greek name Ariadne, which means the venerable and lovely.
Ariana hates having her photo taken.[46]
Ariana says she's scared of the dark during this video.
One of Ariana's best friends is her Victorious co-star, Liz Gillies.
Ariana attended the Emmy's in September 2012.
Ariana shot her first scene for her spin off show "Sam and Cat" on September 19, 2012. The shooting went well.[47]
Ariana wrote an unnamed song on September 18, 2012.[48]
Ariana was in a Nickelodeon movie called Swindle, along with Jennette McCurdy. She portrayed a peppy cheerleader named Amanda.[49]
Ariana's favorite One Direction song is "One Thing."
Ariana went to a Madonna concert with her mom in Vancouver on September 29, 2012.
Ariana performed at The Big Fresno Fair on October 13, 2012.
Ariana held a free "Meet & Greet" in The Westin Grand, Vancouver on October 28, 2012.[50]
Ariana performed on the Annual Tree Lighting in LA on Nov 10, 2012.[51] She performed "All I Want for Christmas is You" on this event.[52]
Ariana had a live chat with Colleen Ballinger and her brother Frankie Grande around midnight on November 12/13, 2012.
Ariana starred in the stage production A Snow White Christmas at Pasadena Playhouse in December, 2012 as Snow White [53]
Ariana attended Matt Bennett's 21st birthday.[54]
Ariana held a "meet and greet" in Arizona, Arrowhead Towne Center Glendale on November 18, 2012.[55]
Ariana and Harry Styles have each other's numbers, they keep in touch. She has also mentioned him in some of her livestreams with Liz Gillies.
Ariana had another "Dinner with Ariana" in New York on November 23, 2012.[56]
Ariana went with her family to the Thanksgiving Day Parade in New York 2012 where Jennette McCurdy also performed.[57] However, they never actually got to see it and ended up watching it on TV.[58]
Ariana knows how to dance the "Gangnam Style" dance.[59]
Ariana livestreamed a video on December 18, 2012.[61]
Ariana and Jai Brooks kissed for the first time on January 1, 2013.[62]
Ariana posted her first picture on Instagram on August 6, 2011.[63]
Ariana hit 5 million followers on February 24, 2013 and wrote a Twitlonger thanking her fans.[64]
Ariana was live on Z100 in New York on March 19, 2013.[67]
Ariana has never been to Egypt.[68]
Her favorite smells are rose, cotton candy, and vanilla, and her favorite things to cook are salmon and veggies.[68]
She can make a clover with her tongue.[68]
Ariana's perfect day would involve mixing her LA life with her New York life, her old pals, and music. She would start the day off on the set of Victorious with her friends, then see a Broadway show, go sing, have sushi with her family, and go home and play video games.[69]
On May 10, 2013 Ariana partnered with Univision to record a Spanish version of her hit song "The Way."[70][71]
She was born Roman Catholic but has since given up on Christianity since Pope Benedict said that everything she loved and believed in were sins, such as Harry Potter, Spongebob Squarepants, homosexuality and working women. She has since started following Kabbalah's teachings, believing "the basis lies in the idea that if you're kind to others, good things will happen to you."[72]
Ariana Grande grows watermelons in her garden.[73]
One of her Spanish teachers was named Miss Lewis, she frequently got in trouble in that class for talking.[74]
While Ariana dyed her hair red to portray Cat in Victorious, she wears a wig to portray her on Sam & Cat, because dyeing her hair every other week for Victorious completely destroyed her hair.[75]
After the announcement of Sam & Cat's cancellation, she wrote this long tweet where she says goodbye to Cat.
Ariana performed in front of President Barack Obama and Michelle Obama on March 6, 2014.[76]
Ariana Grande became a pescatarian on July 3, 2010.[77][78] On November 3, 2013, she became a vegetarian.[79]
She has three tattoos. The first one she got is a small heart on the second toe of her right foot, which she got on April 21, 2012 to celebrate her debut album. Her second tattoo is writing on the back of her neck that says "Mille Tendresse", French for "a thousand tendernesses". Ariana's third tattoo is writing on the left side of her ribcage reading "Bellissima", Italian for "beautiful", because that's what her grandfather has called her her whole life. She got both her second and third tattoos in March 2014.
She voiced a character in Family Guy.
Ariana's next album My Everything was released on August 25, 2014.
"Break Free" is the second single off of Ariana Grande's second album, My Everything which features Zedd.
"Bang Bang" was released on July 29, 2014. She collaborated with Jessie J and Nicki Minaj.
She often wears a Kabbalah red string around her wrist. It can be seen in her Problem and Break Free music videos.[80]
References
External links