ICarly

General information
Genre
Teen sitcom
Starring
Miranda Cosgrove
Jennette McCurdy
Nathan Kress
Jerry Trainor
Noah Munck
Theme music composer
Michael Corcoran
Opening theme
"Leave it All to Me," sung by Miranda Cosgrove ft. Drake Bell
Country of origin
United States
Language(s)
English
No. of seasons
5
No. of episodes
109
Production information
Executive producer(s)
Dan Schneider
Producer(s)
Robin Weiner
(supervising producer;
co-executive producer
season 4–5)
Joe Catania
Bruce Rand Berman
(season 2–5)
Jake Farrow
(season 4–5)
Matt Fleckenstein
(season 4–5)
Arthur Gradstein
(season 4–5)
Location(s)
Nickelodeon on Sunset (Season 1–4)
KTLA Studios (Season 5)
Hollywood, California
Camera setup
Videotape (filmized); Multi-camera
Running time
23 minutes
(regular episode)
Production company(s)
Schneider's Bakery
Distributor
Nickelodeon
Original channel
Nickelodeon
Picture format
1080i (HDTV)
480i (SDTV) (sometimes)
Audio format
Stereo
Original run
September 8, 2007 – November 23, 2012
Chronology
Related shows
Sam & Cat
Victorious
iCarly (stylized as iCarly) is an American sitcom created by Dan Schneider for Nickelodeon. It is the show from which Sam Puckett originated. The show first aired on September 8, 2007 a week before Drake and Josh (another show made by Dan) ended. The show is about a girl named Carly Shay who makes a webshow called iCarly along with her two best friends. The show ended on November 23, 2012 with the hour-long series finale "iGoodbye." iCarly ran for about 5 years and was the longest running sitcom on Nickelodeon, but as of July 27th, 2019, Henry Danger is now the longest running sitcom on Nickelodeon.(The longest show on Nickelodeon was "All That," but that was a sketch comedy, not a sitcom.)
Plot
When Carly and her sassy best friend Sam act funny at a school talent show audition, tech-savvy Freddie tapes it and posts it online without telling them. After seeing the girls' strong chemistry and banter, the online audience clamors for more and the iCarly webcast is born. While grappling with typical issues of adolescence, Carly, Sam, and Freddie find out that they have also become online celebrities as their show – which features talent contests, recipes, problem-solving, and random dancing – garners international accolades.
Carly lives in Seattle, Washington with her 26-year-old brother and guardian Spencer and produces the show in a makeshift third-floor studio loft in their apartment. Even though their mother has never been seen or mentioned, their father, Steven Shay, is a U.S. Air Force officer who is temporarily stationed on a submarine, and is occasionally mentioned but has only been seen in person in the last episode "iGoodbye".
Exterior shots of the Shays' apartment building, Bushwell Plaza, are digitally altered images of the Eastern Columbia Building in Los Angeles.
The show ends when Carly moves with her dad to Italy, but it is unknown if she will ever come back and continue the web show (Dan has stated that he would like to make a reunion episode).
Characters
Main characters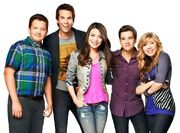 Recurring characters
Other characters
Pam Puckett (once portrayed by Jane Lynch) is Sam's mother.
Socko is Spencer's best friend. He is selling socks, as his name indicates it. Many of his relatives are mentioned too, also having a name referencing their occupations.
Nora Dershlit (Danielle Morrow) is a psychotic fan of iCarly, at the point of locking the crew in her basement when they came to her birthday party.
Trivia
The main cast met Cat before in iParty with Victorious.
Besides Sam as a lead character of Sam & Cat, some characters of this show have been in Sam & Cat.
Gibby was the first iCarly character to meet Cat in iParty with Victorious.
Dice is a huge fan of the webshow.
Spencer is the only main character of the show to never appear or be mentioned in Sam & Cat.
Cat appeared on some online stand-alone iCarly segments (that have nothing to do with any show).
Every title begins by "i", like the webshow. It's often for "Internet" (like iPilot), but it's also often a pun with "I", which refers to someone (like "iWant More Viewers", "iGot Detention"...). There have been two others puns with it, iQ and iBalls, a pun of "eye-balls".
As a recurring cast member until the fourth season, Noah Munck has been absent of a lot of episodes. Jennette was at the hospital during the production episode "iWon't Cancel the Show", which was written to be a plot created by Sam's absence. She and Nathan Kress were also unscripted as themselves of "iBloop". This makes Miranda Cosgrove and Jerry Trainor the only actors to have been in every episode.
Every episode features at least one scene of a webcast, with exceptions:
"iGo to Japan", "iQuit iCarly", "iShock America", and iGoodbye" begin in the same way that every Sam & Cat episode except #Pilot does where scenes of the the show locates and title
In 2010, Ryan Ochoa left his role of Chuck to be on the Disney XD show Pair of Kings as Lanny. Because of that, he couldn't have been on Sam & Cat. He would also have been too old to have the part again.
On December 9 2020, a revival of the series was ordered and it premiered on June 17th, 2021 on Paramount+.[1]
References
External links